PHIL PEPE ~ Sports Writer ~ Author
PHIL PEPE
Sports writer and Author, Phil Pepe has covered
sports in New York for more than five decades.
He was the Yankees beat writer for
the New York World Telegram & Sun from 1961-64,
and for the New York Daily News from 1971-84.
He is the author of approximately 48 books, including
'My Favorite Summer: 1956' with Mickey Mantle (Doubleday),
which reached Number 7 on the New York Times bestseller list;
'BillyBall' with Billy Martin (Doubleday); and
'Talkin' Baseball: An Oral History of Baseball in the 1970s' (Ballantine).
Although retired as a sports writer for the newspaper,
Phil Pepe continues to write and publish one or more books
per year covering his lifelong passions; Sports,
Baseball, and specifically the NEW YORK YANKEES.

~~~~~~~~~~~~~~~~~~~~
~~~~~~~~~~~~~~~~~~~~~~~~~
___________________________________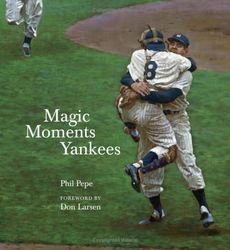 'MAGIC MOMENTS YANKEES'
~~~~~~~~~~~~~~~~~~~~~~~
No team has quite the same legend
as the New York Yankees. They're the
celebrated overachievers setting records
that have redefined baseball;
recruiting players whose names are
synonymous worldwide with
our national pastime
Ruth, DiMaggio, Mantle,
Maris, Gehrig, Jeter.
In nearly every decade, there
have been moments and players
to celebrate. Discover the magic
and relieve the memories in this
commemorative look back at
the Yankees of yesteryear.
_________________________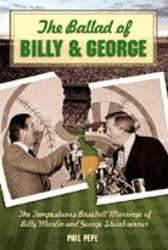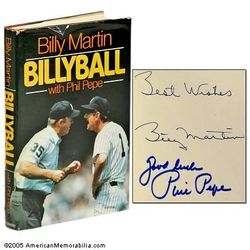 ~~~~~~~~~~~~~~~~~~~~~~~~
'BILLYBALL'
"Whether you love him or hate him
-and there's no in-between -
Billy Martin is always
major league news.
One of the most colorful and
unquestionably controversial
figures in the world of
professional sports, Martin
can always be counted on to
speak his mind-loud and clear!
Now in this insightful volume,
the perennial on-again-off-again
New York Yankees manager
teamed with veteran Daily News
columnist and author Phil Pepe
to settle the score on the
greatest love of his life: baseball."

(Excerpt from the Front Jacket)
~~~~~~~~~~~~~~~~~~~~~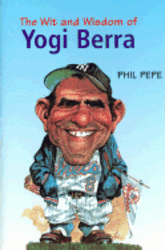 Wit and Wisdom of Yogi Berra
by Phil Pepe
Foreword by Whitey Ford
In The Wit and Wisdom of Yogi Berra,
author Phil Pepe takes Yogi
from St. Louis to New York's
Yankee Stadium and Shea Stadium,
including all the stops
along the way--from the days
he put soles on women's shoes
to his induction into the
Baseball's Hall of Fame,
when he coined one of his
most remembered phrases:
"I thank everybody for
making this day necessary."
* * *
Phil Pepe explores Yogi Berra
as a boy, player, hero, coach,
manager, husband, and father,
a buffoon and a human being.
He relates all of the Berraisms in
an absorbing treatment that is
simultaneously comical, thoughtful,
and biographical. Who can forget what
Yogi said about a popular restaurant:
"Nobody goes there anymore.
It's too crowded." Or Yogi's takes
on Little League Baseball?
"I think it's wonderful.
It keeps the kids out of the house."
Editorial Reviews on Amazon.com
Pub. Date: May 2002
~~~~~~~~~~~~~~~~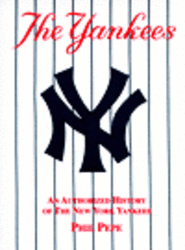 Yankees
by Phil Pepe

Year after year, the New York Yankees
have fielded the best team in baseball,
and this is the story of their success
by eminent sports writer, Phil Pepe.
32 pennants and
22 World Series triumphs
is a record unmatched in the
history of American sports.
Pepe turns the spotlight on each era
of Yankee greatness,
from Ruth and Gehrig to Joe DiMaggio
to the glories of the Mickey Mantle-
Casey Stengel years.

Full-color photos.
Pub. Date: April 1995

~~~~~~~~~~~~~~~~
~~~~~~~~~~~~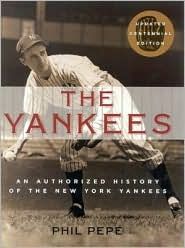 ~~~~~~~~~~
~~~~~~~~~~~~~~~~~

'The Yankees:
An Authorized History
of the New York Yankees,
Updated Centennal Edition'
by Phil Pepe and David Hickey

'The Yankees' is a
tribute to the celebration
of the 100th anniversary
of the Yankees franchise.
This edition is filled with vivid,
colorful photography and historical
retrospectives which recount
some of the greatest moments
in Yankee history back to the
early nineteen hundreds.

Pub. Date: October 2003
~~~~~~~~~~~~~~~~~~
____________________________________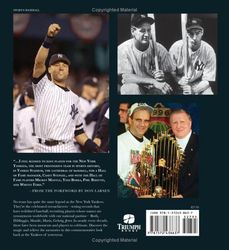 (BACK COVER)
Magic Moments Yankees
~~~~~~~~~~~~~~~~~~
"Selecting 40 of the greatest
memories in the more than
100-year history of the
New York Yankees--
the most prestigious,
most successful franchise
in sports history,
winner of 39
American League pennants
and 26 World Series--
was easy.
The hard part was
limiting the great moments
to only 40."
Phil Pepe (Pub. April 2008)
__________________________

'The Ballad of Billy and George
The Tempestuous Marriage Of
Billy Martin & George Steinbrenner'

(Exerpt From the Back Cover)
They were compared to Mutt and Jeff,
Hatfield and McCoy, and even
Elizabeth Taylor and Richard Burton:
two stubborn and driven men whose
on-again off-again partnership
entertained the nation for 2 decades.
Yankees owner George Steinbrenner
hired former player Billy Martin
to manage the famous baseball
franchise. They immediately won
two American League pennants
and the 1977 World Series.
Feuds erupted, separations ensued,
each accused the other of disrespect,
and the dysfunctional 'house that
Ruth built' was frequently broken up
when the two parted ways,
only to reunite within weeks.
A total of five partnerships
and five firings happened.,
Steinbrenner and Martin created
great baseball drama and
some championship seasons
along the way.
The Ballad of Billy and George is a
blow-by-blow history of their
combustible chemistry,
drawn from interviews with
Billy Martin Jr., Mickey Mantle,
Reggie Jackson, Ron Guidry,
Sparky Lyle, Goose Gossage,
Bucky Dent, Clete Boyer,
Graig Nettles, Lou Piniella,
Clyde King, and Gene Michael.
Veteran sportswriter, author Phil Pepe
recalls one-on-one conversations
with Billy Martin.
This is the tumultuous love-hate
relationship between
Steinbrenner and Martin is
affectionately presented by Pepe,
who covered the Yankees every day
during these rollicking times
and who offers a first-hand account
of what he remembers as
"the best of times and the worst of times."
~~~~~~~~~~~~~~~~~~~~~~~
~~~~~~~~~~~~~~~~~~~~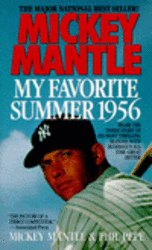 ~~~~~~~~~~~~~
'MICKEY MANTLE
My Favorite Summer 1956'

Mickey Mantle,
the hayseed kid from
Spavinaw, Oklahoma,
was in his 6th year with the Yankees
in 1956.
He was America's homerun king
and about to become a national hero.
That was a record-breaking season,
the golden summer that
fans would remember forever.
Mickey Mantle brings it all back,
just the way it happened;
the spectacular playing field,
crazy hijinks with Whitey Ford
and Billy Martin.
There never was a time
like it before in baseball.
There never will be again.
It was magic.
* Pub. Date: March 1992
~~~~~~~~~~~~~~~~~~~~~~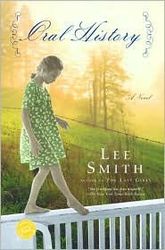 Talkin' Baseball :
An Oral History of Baseball in the 1970s
by Phil Pepe

Baseball in the 1970s
- remember how awesome it was?
It was a decade of heroes and upsets
and dramatic freeze-frame moments.
Never had the game been
more exciting.
Never did it change so radically.
In this oral history, veteran
sportswriter Phil Pepe brings one
incredible baseball decade back to life
in the words of the guys
who played - and lived - the game.
Hear union leader Marvin Miller
recount St. Louis Cardinals
outfielder Curt Flood's monumental
challenge of the iron-clad
reserve clause, and the dawning of
the free agency.
Ron Blomberg recalls his time
at bat as the game's first
designated hitter.
Earl Weaver and Brooks Robinson
describe the Orioles dismantling
The Big Red Machine.
Ralph Houk and Rusty Staub relive
the actions and antics of Tigers rookie
sensation Mark "The Bird" Fidrych.
And Diane Munson shares her heart
about her husband,
Yankee captain Thurman Munson,
after he died in a tragic plane crash.
It was the first time a player
ever earned a million bucks.
Hank Aaron became the
all-time home-run king.
Electronic scoreboards blazed
against the night sky.
Fans screamed
"Ya gotta believe"
and sang "We Are Family."
All this happened in one decade -
and it's all right here in one book.
(Pub. 1992)
~~~~~~~~~~~~~~~~~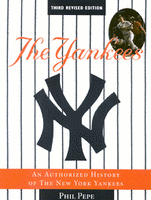 (This Edition Published in 1998)


~~~~~~~~~~~~~~~
~~~~~~~~~~~~~~~~~
~~~~~~~~~~~~~

"Have faith in the Yankees,
my son."
Ernest Hemingway from
The Old Man and the Sea in 1952

For More Information
on the History of the Yankees
Players and Games
Click on Image below
For the BASEBALL ALAMANAC
Web Site
~~~~~~~~~~~~~
~~~~~~~~~~~~~~~~~