RUTH KIRK ~ AUTHOR
Festival of the Arts
Click on Icon above to hear show
March 30, 2008


~~~~~~~~~~~~~~~~~~~~~~~~~~~~~~~~~~~~~~~~~~~~~~
~~~~~~~~~~~~~~~~~~~~~~~~~~~~~~~~~~~~~~~~~~~~
Author, Ruth Lynn Kirk turned her love for horses, ponies,
farms and all animals into a series of children's books
written in memory of Charlie, the Pony who was a dear
and integral part of the Kirk family for 25 years.
The Illustrations, by Lynn Degen depict emotions and
thoughts of the ponies and people and blend smoothly
into the dialogue and storyline.
Based on true stories, people, and places,
there are 'fictional privilages' such as the
Shamrock Stables Boarding Kennel as
Sunshine Stables and the Kirk family as the Cooks.

Ruth Lynn Kirk is a freelance writer who has published
articles in GROOM & BOARD MAGAZINE
and written a pet column for the
South Charleston Advocate.
She was Editor of Women Business Owners newsletter
and she has written and produced TV and Radio Ads.

Ruth is a member of
The Society of Children's Book Writers & Illustrators
The Association of Booksellers for Children (ABC)
Publishers Marketing Association (PMA)
The West Virginia Writers

~~~~~~~~~~~~~~~~~~~~~~~~~~~~~~~~~~~~~~~~~~~~~~~~~~~~~~

The 'Almost' Christmas Pony (

ã

1999) (2000) (2002)
I Want to be the Reindeer ! (

ã

2001)
Charlie Ate My Hat ! (

ã

2004)
Charlie Goes to Camp (

ã

2006)


Published by Shamrock Press / Printed and Bound in Canada

~~~~~~~~~~~~~~~~~~~~~~~~~~~~~~~~~~~~~~~~~~~~~~~~~~~~~~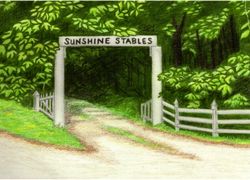 To access Website and More Illustrations by LYNN DEGAN- Click on SUNSHINE STABLES Photo Above ________________________________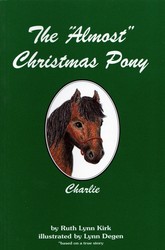 Written in his memory, this is the story
of Charlie's adoption, his feelings,
his hopes, dreams and how he became
a member of the Cook (Kirk) family.
~~~~~~~~~~~~~~~~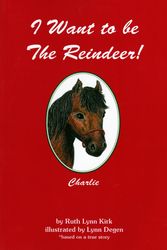 Christmas caroling on horseback and
Santa's sleigh with the 4 H Club meant
choosing a lead horse to pull the cart.
Charlie wanted to be that horse.
~~~~~~~~~~~~~~~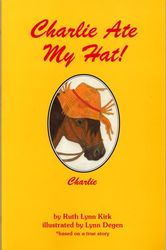 GYMKHANA (Games on Horseback), a
4 H project, requiring costumes.
Charlie and Theresa had straw hats
which Charlie saw as delicious snacks.
~~~~~~~~~~~~~~~~~~
Charlie goes to Camp Virgil Tate
with Paleface, Theresa and Michele.
Because of breaking a rule, they may
not get to be in the Horse Show.
~~~~~~~~~~~~~~~~
Theresa's CHARLIE and Michele's PALEFACE - Illustrations by Lynn Degan - Website: www.ArcadiaStudios.com/CharlieInfo ________________________________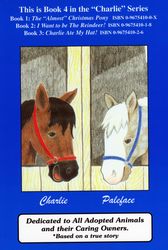 CHARLIE and PALEFACE were adopted
from the Humane Society and into a
loving, caring family and lived as
members on their farm for 25 years.
~~~~~~~~~~~~~~~~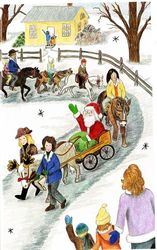 Paleface was choosen because of
his size and wore gloves on his ears
as antlers. Charlie was happy to
be in the parade as the 'tail-end'
~~~~~~~~~~~~~~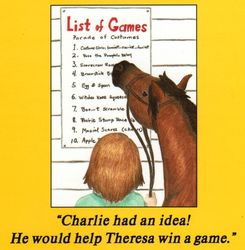 Charlie and Theresa weren't winning
any games. Then they joined the
apple bobbing event and 'accidently'
tested the 'laws of the land.'
~~~~~~~~~~~~~~~~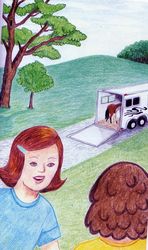 Charlie and Paleface go by van
to Camp Virgil Tate where they
learn 'stride' and many lessons
in participating in Horse Shows.
~~~~~~~~~~~~~~~~~
For Children and Adults
Author
RUTH KIRK
'Charlie,
the Pony'
Book Series Based on
True Stories.
Two loveable ponies,
Charlie and Paleface
became members
of the Kirk family
one Christmas Eve.
Ruth Kirk highlights
the tales of
their 25 adventuresome
and wonderful years
together in
'Charlie, The Pony'
Series of 4 books.