MARVIN CHEITEN, Ph.D
PLAYWRIGHT ~ POET ~ FICTION WRITER
Marvin Cheiten earned his Ph.D. in French Literature at Princeton University, located in the town which is both the setting for Mr. Cheiten's latest two plays and the home of the Hamilton Murray Theatre where they are staged.
Mr. Cheiten is no stranger to the area or its inhabitants as he was born in New Brunswick, grew up in Highland Park and went to Rutgers Preparatory School before attending Princeton University. His prolific ability to weave a story from contemporary life is coupled with his deep understanding of the stately, affluent, and multi-cultural society of Princeton.
These are the blueprints for Mr. Cheiten's backdrops and characters with all their intricacies and complexities. His play, Miss Connections in 2006 was the forerunner of this year's sequel production, Whizzer's Island.
This year the main characters, Tom and Thalia Brown find themselves stranded on Whizzer's Island with a rather unpalatable crew of characters. When the bodies start piling up, Tom and Thalia take on the responsibility of figuring out the 'who done it' and WHY.

Mr. Cheiten explains that, "Even though this work is a murder mystery, with clear resonance of Agatha Christie's Ten Little Indians, it is for all that, a comedy and, in that sense, a successor to Miss Connections.
Other plays of Marvin Cheiten which have debuted on the Princeton campus, include Queen Jane, The Golden Spy, Chowder, She Wrote, Zenobia, and his 2006 production of Miss Connections.
His poems, short stories, and essays have been published in the US 1 Summer Fiction Issue, The Princeton Arts Review, The Mensa Journal, and The Princeton Alumni Weekly.


Latest play
'THE STAR'
by Marvin Cheiten
Princeton University's
Hamilton Murray Theater
2008
Friday & Saturday
August 15 - 16
August 22 - 23
(Evening performances)

Sundays August 17 & 24
(Matinee performances)
~~~~~~~~~~~~~~~
~~~~~~~~~~~~~~~~~~~~~
'THE STAR'
2008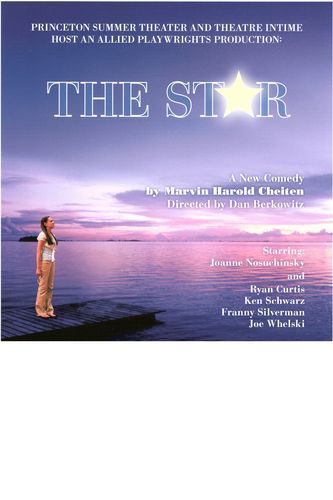 ABOUT THE ACTORS
~~~~~~~~~~~~~~~~~~~~~~~
"The audience reaction to the actors who played those parts -- Joe Whelski and Joanne Nosuchinsky -- was so favorable that I have brought them back to star in my new play."
Marvin Cheiten 2007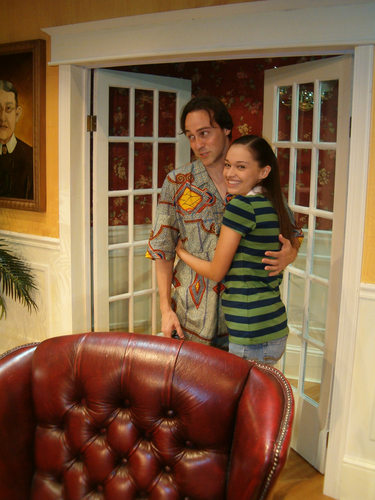 ~~~~~~~~~~~~~~~~

WHIZZER'S ISLAND
2007
The Main characters, Tom Brown played by Joe Whelski, and Tom's daughter, Thalia Brown played by the brilliant, young actress Joanne Nosuchinsky, were two stars of Marvin Cheiten's 2006 play "Miss Connections." In 2007 they starred in the sequel entitled, "Whizzer's Island."

~~~~~~~~~~~~~~~~