ROIA RAFIEYAN
SINGER and SONGWRITER MUSIC THERAPIST
Roia spent the majority of her childhood in Iran asking her parents for a piano. When that didn't work, she began to consider the guitar as an alternate. That seemed to do the trick, because her parents finally gave in, and they helped her buy her first guitar at the age of twelve.

After teaching herself how to play chords, Roia came to the United States and started lessons with various classical guitar students from the Hartt College of Music (University of Hartford). Many lessons later, she was accepted to the Music Therapy program at Temple University (in Philadelphia). Her focus at the time was on classical guitar; however, she loved to sing and play the songs of Simon and Garfunkel, James Taylor, and Crosby, Stills, Nash and Young. During college she started to write a number of songs, mostly piano-based.

Years later, she surprised herself by beginning again to write songs- at first on the piano, but then, gradually, songs grew out of her guitar playing. She found herself influenced heavily by her work as a music therapist, using her songs as an emotional outlet, and as a way to cope with the experiences she had working with individuals who had a great deal of trauma.

In addition to her work as a music therapist, supporting folks with autism, Roia and a group of dedicated friends run the Common Grounds Coffeehouse, a monthly venue in Clinton, New Jersey. The focus of the coffeehouse is building an inclusive community through music and art by and for all people. (From Roia's web site: http://www.roiamusic.com/bio.html)
~~~~~~~~~~~~~~~~~~~~~~~~~~~~~~~~~~~~~~~~~~~~~~~~~~~~~~~~~~~~~~~~~~~~~~~~~~~
In the mid-90s

Roia began playing at Open Mics in and around New Jersey

and was delighted with the responses. One particularly positive response from Michael Kianka (DTC Records) led to her first CD, "Songs From Behind Locked Doors" in 1999. She is currently working on her second CD.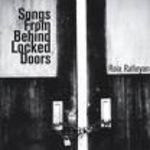 From Roia Rafieyan's 1999 CD
(Roia Rafieyan)
(Roia Rafieyan)
(Roia Rafieyan)
(Roia Rafieyan)
(Roia Rafieyan)
© 2007 Roia Rafieyan
CD "Songs From Behind Locked Doors"
Singer ~ Songwriter
Roia has played her songs in venues from Vermont to Georgia, and she has had the pleasure of providing back-up vocals for her friend Arlon Bennett's CD "Fountain of Dreams." Some of her songs were also included in the independent film by Donna Dudick, "The Mommy Track."

~~~~~~~~~~~~~~~
Music Therapist
For 20 years, Roia has been a Music Therapist and is at the Hunterdon Developmental Center in Clinton, N.J. Her passion, career and focus is working with adults with Autism, ages 40-50. (See more information and links to other sites on www.roiamusic.com ) She is a member of AMTA, Inc. For Further information on Music Therapy: www.http://musictherapy.org/
~~~~~~~~~~~~~~
LINKS:
This is the website of Michael, the owner of the wonderful independent record company who has made my CD ("Songs From Behind Locked Doors") possible. You can buy my CD there, or you can listen to some other terrific songwriter/musicians- not the least of which is Andrew Dunn.
The good folks at CD Baby (related to the good folks at Hostbaby) are selling my CD along with a whole lot of other excellent CDs from other independent artists. Go give a listen.
Home of Enchantress Radio and a wide variety of other styles of music. They have been kind enough to include my music in the play lists of Enchantress Radio and the Debut Alternative section. Head on over and listen to some good music for the masses.
This is the website of my friend, Bill Stillman, who has a great deal to say about the experience of living on the autism spectrum and who says it so beautifully and gently that, frankly, it should really be heard by everyone.
***************************************************
Music Therapy Publications
Dvorkin, J. and Rafieyan, R. (1999). "Parallel Experiences" (pp. 247-250) in Inside Music Therapy: Client Experiences (Hibben, J., Ed.). Gilsum, NH: Barcelona Publishers.

Rafieyan, R. (2002). "Music Therapy with Adults who have Severe and Profound Developmental Disabilities: Clinical Approaches, Focus of Practice, and Role of the Music: A Literature Review". Unpublished Master's Thesis; Drexel University's Hahnemann Creative Arts in Therapy Program.

Rafieyan, R. (2003). "Meeting Rich: Individual Music Therapy with a Man who has Severe Disabilities" (pp. 339-355) in Psychodynamic Music Therapy: Case Studies (Hadley, S., Ed.). Gilsum, NH: Barcelona Publishers. (Read Review)

Rafieyan, R. and Ries, R. (2007). "A Description of the Use of Music Therapy in Consultation-Liaison Psychiatry". Psychiatry 2007, 4(1): 47-52. (Read the article)
~~~~~~~~~~~~~~~~~~~