A Tribute to MARCEL MARCEAU
Marcel Marceau was born in Strasbourg, France, March, 1922. From childhood he loved the art of mime and was inspired by silent screen stars such as Charlie Chaplin, Buster Keaton, Harry Langdon, Harold Lloyd, and Laurel & Hardy. In 1944 he enrolled in Charles Dullin's School of Dramatic Art in the Sarah Bernhardt Theatre in Paris, where he studied with his mime master Etienne Decroux, who also taught Jean-Louis Barrault.
At the Liberation of Paris, he enrolled in the First French Army and participated in the German campaign, side by side with the American GI's. After the demobilization in May 1946, Marcel entered Barrault's Company and was cast in the role of Arlequin in the pantomime Baptiste which Barrault himself had interpreted in the world famous film Les Enfants du Paradis.
In 1947, Marcel created his character, "Bip", who has become his alter-ego like Chaplin's "Little Tramp". Bip's adventures are likened to Don Quixote's struggle against the windmills of life.
Marcel continued to work with Decroux until 1948 and, that year, his Compagnie de mime Marcel Marceau - the only company of pantomime in the world at that time. He played in the leading Paris theatres as well as other playhouses in Europe, Canada and South America. With his company, he has produced, directed and played 26 mimodramas, including 'Pierrot de Montmartre,' 'The 3 Wigs,' 'The Pawn Shop,' '4th July,' 'The Wolf of Tsu-Ku-Mi,' 'Paris laughs - Paris cries,' and 'Don Juan' (adapted from Tirso de Molina). More recently, the company has offered 'The Overcoat' and 'The Bowler Hat' in Europe, Asia, and the Americas.
Marcel Marceau first toured in the United States in 1955-56 to overwhelming acclaim, ending with a record-breaking return to New York's City Center in the spring of 1956. With his international renown established, his subsequent tours included numerous countries and every continent in the world. He continued to average over 200 performances per year worldwide. When not touring, Marceau taught in his accredited international school of mime in Paris.
Mr. Marceau appeared on international television, especially in America and received two Emmys for his appearances on 'The Maurice Chevalier Show' and 'Laugh In.' He appeared on BBC as 17 different characters in 'A Christmas Carol' in 1973, and in 13 short films produced by Encyclopedia Britannica including Bip and the style pantomimes.
Marcel Marceau also demonstrated his versatility in motion pictures such as 'Barbarella' with Jane Fonda, directed by Roger Vadim; Shanks, directed by Bill Castle, in which he combined his silent art playing a deaf mute puppeteer and a speaking mad scientist. In Mel Brook's 'Silent Movie,' he said the only word in the film,"Non!"
Publications of Marceau's paintings, poetry and illustrations include 'La Ballade de Paris et du Monde' 'Les Réveries de Bip,' 'The Story of Bip' (Harpers and Row), Pimporello (Belfond Paris), The Third Eye (Paris Lithoprint). Children have been delighted by 'The Alphabet Book' and 'Marcel Marceau's Counting Hat Book,' and are enjoying the 'Bip in a Book' (Stewart, Tabori & Chang).

The French Government conferred upon Mr. Marceau its highest honours: Officier de la Légion d'Honneur, Commandeur des Arts et Lettres, and Grand Officier de l'Ordre National du Mérite. He was an elected member of the Academy of Fine Arts in Berlin, the Academy of Fine Arts in Munich, and a member of the prestigious Institut de France. Mr. Marceau has honorary doctorates from Princeton University, Ohio State University, Linfield College, and the University of Michigan at Ann Arbor.
Mr. Marceau has accepted the honour and responsibilities of serving as Goodwill Ambassador for the United Nations Second World Assembly on Ageing, which took place in Madrid, Spain in April, 2002, at which Mr. Marceau appeared. His 11 week tour included performances in over 24 cities including a return to Australia and New Zealand, after a 10-year absence, an American tour, and his first appearances on the Hawaiian Islands.
Information on Marcel Marceau and his activities is made available by the New York-based nonprofit organization, The Marcel Marceau Foundation for the Advancement of the Art of Mime, Inc. at www.marceau.org
Gregg Goldston ~ Marcel Marceau
~~~~~~~~~~~~~~~~
22 YEAR HISTORY BETWEEN GREGG GOLDSTON AND MARCEL MARCEAU
began when Gregg Goldston actually met Marcel Marceau face to face, backstage after a Marceau performance at UC BERKLEY in 1985. Surprisingly, this meeting sparked a long career of projects and performances, which developed a deep friendship between the two that continued throughout Marceau's life.
For Further Information: www.goldmime.com/index.htm
~~~~~~~~~~~~~~~~~~~
About Gregg Goldston
"His work is among the best I have seen in my long career of performing throughout the world.....his ability and vision have expanded the art of mime."
MARCEL MARCEAU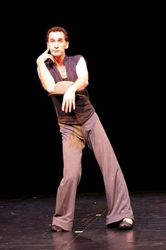 ~~~~~~~~~~~~~~~~~~~~~~~~
Marceau was born in Strasbourg, the son of a butcher who was executed by the Nazis during World War II. Marceau worked for the French underground, helping Jewish children cross the border into Switzerland.
In 1944, he entered Charles Dullin's School of Dramatic Art and studied with Etienne Decroux (1898–1991). He made his début as Harlequin in Jean-Louis Barrault's production of Baptiste in 1947. That same year he formed his own company and created his famous character "Bip," a flour-faced clown always in conflict with the physical world. He wrote The Story of Bip, which was published in 1976, and celebrated Bip's 50th anniversary in 1997.
Marceau, who is the best-known exponent of modern mime, toured either as a solo artist or with a small company in many parts of the world. In his U.S. tours in 1955–56 and 2000 he also made many television appearances. His silent eloquence and unique synthesis of corporeal mime with 19th century pantomime captured the public's imagination wherever he appeared.
Most of Marceau's programs consisted of small sketches featuring "Bip," but in 1951 he created an extended drama, The Overcoat, based on the novel by Gogol. He also made a number of films. In 1971 he collaborated with the Hamburg Ballet on a version of Candide. Marceau described mime as "the art of expressing feelings by attitudes and not a means of expressing words through gestures."
In 1998, French President Jacques Chirac named Marceau a Grand Officer of the Order of Merit. He was elected a member of the Academies of Fine Arts in Berlin and Munich, the Academie of Beaux Arts in France, and the Institut de France.
ADD. BIBLIOGRAPHY: Y. Karsh, Portraits of Greatness (1959), 124; B. Martin, Marcel Marceau: Master of Mime (1979). [Selma Jeanne Cohen / Amnon Shiloah (2nd ed.)] Source Citation: Cohen, Selma Jeanne and Amnon Shiloah. "Marceau, Marcel." Encyclopaedia Judaica. Ed. Michael Berenbaum and Fred Skolnik. Vol. 13. 2nd ed. Detroit: Macmillan Reference USA, 2007. 511. Gale Virtual Reference Library. Gale. West Virginia Library Commission. 28 Sept. 2007 . Gale Document Number: GALE|CX2587513228 Copyright and Terms of Use: http://www.gale.com/epcopyright Full Text: COPYRIGHT 2007 Keter Publishing House Ltd. MARCEAU, MARCEL (1923– 2007), French mime.