CANTABILE CHAMBER CHORALE
CANTABILE CHAMBER CHORALE


Cantabile's mission is to cultivate appreciation of choral arts by commissioning new works, giving high-quality performances of a culturally diverse and eclectic repertoire, and engaging the community through outreach and audience education.

Call: (732)-560-7132

for more information

www.cantabilechamberchorale.org

Cantabile Awarded New Jersey Cultural Trust Grant
NJ Cultural Trust funding will enable Cantabile to develop and implement a comprehensive 3-year strategic plan for building the organization capacity to support and sustain its artistic strength. Learn more.
CANTABILE CHAMBER CHORALE
PATHWAYS:
Memories and Visions of 20 Years of Singing

Cantabile and Artistic Director Rebecca Scott celebrate
a score (1988 - 2008) of creativity, friendship,
and performance excellence


Cantabile Chamber Chorale (England, 1989)

The idea for Cantabile was formed over 20 years ago when a group of singers who had performed together in the Rutgers Musica Sacra Oratorio Chorus asked Rebecca Scott to lead their small chamber ensemble for a summer season. After performing together for three summers, the ensemble and Ms. Scott expanded their schedule to a year round schedule. On December 6, 1987, a group of 18 singers performed its first concert as the Cantabile Chamber Chorale under the direction of Rebecca Scott with the late David Shilleto as piano accompanist. The vision stated 20 years ago continues today--"Cantabile will provide the challenge of singing the repertoire for small ensemble with all its difficulties, nuances and special performing problems, while providing the love and good fellowship of joining with close friends in an artistic endeavor."

Sunday, December 2, 2007 at 4:00PM
Pathway I - Reminiscenses
with piano, harp, flute and soprano saxophone accompaniment

We invite you to join us as we reminisce with songs from past programs. Cantabile's inaugural concert on December 6, 1987 featured J.S. Bach's Baroque aria, "Sheep May Safely Graze", (Schafe können sicher weiden"). We repeat our performance in the original German, this time with piano and flute accompaniment. Premieres of new works are synonymous with Cantabile concerts and we present two new compositions commissioned by Cantabile on December 2nd. The Invitation by Ruth Scott Clark leads off a cycle of six Christmas songs written by the 95 year old composer that will complement a narrative reading of A Cup of Christmas Tea. We continue our artistic collaboration with Bruce Lazarus, with the world premiere performance of The isle is full of noises, a setting of William Shakespeare's eloquent meditation on dreams, music, and riches, from The Tempest.

J.S. Bach – Schafe können sicher weiden
Maurice Duruflé – Ubi Caritas
Arr. Yehezkel Brayn – Durme, Durme
Arr. Noam Elkies – Mi ze hidlik
Gerald Cohen – Lakol z'man/For everything a Season
Benjamin Britten – This Little Babe (from Ceremony of Carols)
Bruce Lazarus – The isle is full of noises (world premiere commission)
Tom Hegg– A Cup of Christmas Tea narrative reading by Kathleen Appleby and Tim Espar
Ruth Scott Clark - Christmas Song Cycle
- The Invitation (world premiere commission)
- It's Christmas
- Go by Bethlehem
- Come and Sing Noel
- Christmas Spiritual
- Have a Happy Holiday

Trad. Swedish – Sankta Lucia, Värmlandsvisan
Trad. French – Se Canto
Arr. Barbara Rogers – D'où viens-tu, bergère ?
Edward Elgar – A Christmas Greeting
Ottorino Respighi – Contenti n'andremo (from Laud to the Nativity)
Conrad Susa – Alegría (from Carols and Lullabies)
Trad. Welsh – Calon Lân
Jill Gallina – Who is this Child?
Franz Gruber – Silent Night
Ralph Vaughn Williams – God Bless the Ruler (from Fantasia on Christmas Carols)

Sunday, December 2, 2007 at 4:00PM
Christ United Methodist Church
485 Hoes Lane, Piscataway, NJ

---

Saturday, April 5, 2008 7:30PM
Pathway : II
featuring guest choirs

Bangkok Capella, from Thailand
Charunee Hongcharu, Director

Christ Episcopal Church Choir
New Brunswick Chamber Orchestra
Mark Trautman, Director

Beethoven Choral Fantasy
Lloyd Arriola, piano

Bach Chorale
Mozart: Venite Populi
A World premiere by Eric Ewazen
Opera choruses by Verdi, Copland, Britten & Bernstein

First Reformed Church of New Brunswick
9 Bayard Street
New Brunswick, NJ 08901

Reserve your tickets
for the 20th anniversary concerts
REBECCA SCOTT

As founding director of Cantabile,
Rebecca Scott
has led Cantabile for twenty years.

Under her leadership, Cantabile has received the ASCAP-Chorus America Award for Adventuresome Programming and been honored with an Excellence in Achievement Award from the Middlesex County (NJ) Cultural and Heritage Commission.
Ms. Scott holds a Bachelor of Music in Piano and Vocal and Choral Education from The Eastman School of Music and a Master of Science in Choral Conducting from The Juilliard School.

As a member of the Juilliard faculty, she has directed singers in choral music for more than 35 years while also teaching ear training and solfege.
~~~~~~~~~~~~~~~~~~~~~~~~~~~~~~~~~~~~
CHRIST UNITED METHODIST CHURCH
485 Hoes Lane, Piscataway, NJ
~~~~~~~~~~~~~~~~~
www.cantabilechamberchorale.org

REBECCA SCOTT, Artistic Director and Conductor

LLOYD ARRIOLA, Piano

and the

CANTABILE YOUTH SINGERS

ELIZABETH VERDEROSA, Director

~~~~~~~~~~~
Cantabile Chamber Chorale
PO Box 553
Piscataway, NJ 08855-0553
Phone: 732-560-7132, ext. 2
cantabile@att.net

Funding has been made possible in part by the Middlesex County Cultural and Heritage Commission and the New Jersey State Council on the Arts/Department of State, a partner agency of the National Endowment for the Arts.
We're auditioning!
If you're a singer seeking an opportunity for musical growth, friendship, community service and international travel, then we're a perfect match for you. Our 2006-2007 season includes a varied selection from sacred and secular repertoire including two world premieres commissioned by Cantabile: Cantabile has openings and will audition all voice parts.
New singers should call (732) 560-7132, then prompt # 2 or
Email: cantabile@att.net to schedule an audition.
~~~~~~~~~~~~~~~~~~~~~~~~~~~~~
CANTABILE NOTES
Cantabile Wins Hearts in Sweden
"Beautiful tunes from New Jersey" was the headline below a color photo of us in the regional Swedish newspaper (Nya Wermlands Tidnung, 29 Juni 2005, page 22), during our recent tour of Sweden (June 24-July 5, 2005).
Keep up-to-date with the latest happenings from the Cantabile Chamber Chorale. Join now.
~~~~~~~~~~~~~~~~~~~~~~~~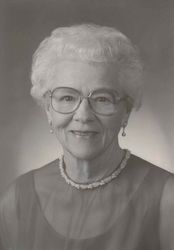 Ruth Elizabeth Scott Clark was born February 5, 1912 in Grove City, Pennsylvania into a family of six musical children. She graduated from Grove City College with a degree in piano and organ having studied with Hermann Poehlman and Paul Grosh.
After graduation, she taught music, English and art classes at Penn Hills High School, Alleghany County, Pa, from 1933-38, where she met her husband, James Adams Clark. Graduate studies were at the Carnegie Institute of Technology (now Carnegie Melon University) in art and music, studying piano with Selmar Jansen.
The Clarks had three daughters and moved to New Jersey in 1946. Mrs. Clark was active in New Jersey as an educator, performer, composer, poet, organist and artist, teaching private studio piano and organ from 1951-1973. During this time, she acted in various capacities for Music Educators Association of New Jersey, the Montclair Music Club, and the Rehearsal Club of Upper Montclair.
In 1974, the Clarks moved to Nokomis, Florida. During twenty-six years there, Mrs. Clark was the Director of the Spanish Lakes Chorus, Musician for the Ladies Oriental Shrine, a member of the Sarasota Music Club, pianist for the Venetian Piano Quartet and for the Venice Symphony and a member of the National League of American Pen Women.
Her musical compositions for piano, organ, chorus, solo voice and various instrumental ensembles have won several prizes from the National League of American Pen Women, Florida chapter. Mrs Clark is also an accomplished artist.