AILA ACCAD, BSN / MSN / EFT-CC / RM
'Inspiring People to Live Their Dreams'
With over 30 years of education and experience in the areas of Personal and Interpersonal Growth, Aila Accad has synthesized a huge amount of information on personal development and relationships into simple principles and effective tools & techniques that everyone can use.
Aila is a registered nurse, advanced EFT Practitioner and founder of LifeQuest International and Get-A-Grip Training and Coaching, who specializes in unique self-growth techniques, including creativity, music, visual arts and sensory experiences that produce profound and lasting results. People who have attended Aila's life-changing seminars call them "Powerful" "Inspiring" and "Fun."
She is the winner of the prestigious Business and Professional Women's Business Woman of the Year Award in 2005, and is acclaimed as a Distinguished Toastmaster by Toastmasters International.
www.ailaspeaks.com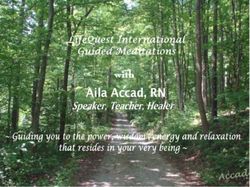 CLICK ON IMAGE TO HEAR SAMPLE MUSIC
~~~~~~~~
~~~~~~~~~~~~~

Impeccable Sound Recording,
Editing & Mixing by Bob Webb
at TreeHouse Recordings


~~~~~~
~~~~~~~~~
~~~~~~~~~~~~
Transcendent Music Composed &
Performed by Jack Kennedy



~~~~~~~~~~~~

~~~~~~~~~~~~~~~
Get A Grip Coaching & Training & Aila Accad

PERSPECTIVE
~~~~~~~~~~


MISSION
Get A Grip Coaching & Training provides motivational speaking and coaching services to individuals & groups which inspire & empower people to increase health, happiness & prosperity in their lives through dynamic and down to earth experiential seminars that address real life issues.