BOB YUROCHKO
MUSICIAN ~ ARTIST ~ TEACHER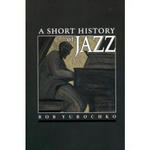 A SHORT HISTORY OF JAZZ
This textbook is intended for both beginning and advanced students of jazz. Bob Yurochko presents a chronological history of jazz, from early West African and New Orleans roots to the Jazz Age, to the Swing Era, to the Bebop Era, through the '50s, '60s, '70s, and '80s, to the contemporary scene.
The comprehensive coverage of the contemporary jazz scene includes Latin influences, funk, rhythm and blues, new age fusion, and mainstream styles.
The book synthesizes a vast amount of material into a concise history, allowing for more listening time in the classroom. A Burnham Publishers book.
~~~~~~~~~~~~~~~~~~~~~~
Bob Yurochko arranged his paintings at the New Jersey Workshop for the Arts at the Westfield Art Gallery on East Broad Street and prepared for the 2005 November-December exhibit, 'Musical Figures.'