CINDY BOGGS- Author - Instructor - Speaker
'THE ART of CREATING YOUR HEALTH'
******************************
Cindy Boggs
has worked in the fitness industry for more than 20 years. She has
been a director and instructor for the YMCA for 18 years
where she trains instructors and coordinates
an innovative health program for more than 10,000 members.
She is Director of West Virginia's Activate America, which is
a nationwide YMCA initiative for better health.
In 2006, Cindy was appointed by Governor Joe Manchin, III to serve on the West Virginia Healthy Lifestyle Coalition to fight
the war on obesity and inactivity. She serves under the direction of the First Lady, Gayle Manchin.
Certified by the American Council on Exercise since 1992, Cindy is known for her common sense approach to achieving a healthy lifestyle in a hectic world. Her training philosophy seeks to find the perfect balance between safe and cutting edge fitness training.

She is a featured columnist for the Charleston Sunday Gazette-Mail and her health and fitness Q and A column has appeared every other week since February 2002. Cindy's ability to meet people "where they are" has made her column a popular resource for people who would be otherwise intimidated by fitness literature.

Cindy appears weekly on WOWK-TV noon news
on the "Ask the Expert" segment and she speaks
and does presentations at schools, support groups,
churches and corporate settings to inform, inspire
and encourage positive lifestyle choices.
Cindy is the Author of the new healthy lifestyle book
CindySays... "You Can Find Health in Your Hectic World"
a reliable Q and A resource that cuts through the
confusion and offers solutions and strategies
to overcome everyday health and fitness obstacles.
CindySays, "A well-intentioned fitness industry is often a health seeker's greatest adversary. A busy public's desperate search for a fit physique drives this industry as it produces one product and service after another. Staying up with changing trends, aggressively advertised products and complicated diets leave many with information overload which in turn produces analysis paralysis."
~~~~~~~~~~~~~~~~~~~~~~~~
~~~~~~~~~~~~~~~~~~~~~~~~~~~~~~
Cindy's main mission is, "To enhance the ability of those seeking health to find a personal path through information, individualization and inspiration."
~~~~~~~~~~~~~~~~~~~~~~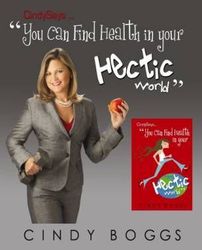 To Order a Copy -Click on Book above
~~~~~~~~~~~~~~~~~~~~~~
A health and fitness book by Cindy Boggs- CindySays... "You Can Find Health in Your Hectic World", exposes the hype and offers healthy lifestyle advice with a consumer advocate mindset.
This reader-friendly Q and A resource guide is a common sense approach that cuts through the confusion and offers solutions to everyday health and fitness problems.
~~~~~~~~~~~~~~~~~~~~~~
Click on Photo for Web Site