LARRY McCULLOUGH, Ph.D.
The Playwright/Author
Larry (L.E.) McCullough, Ph.D has received 48 awards in 33 literary competitions, with 184 poems and short stories published in 92 North American literary journals. He has authored 26 books on plays, monologues, and short stories for theatre education publishers, Smith and Kraus and EduPress and he is the recipient of the Playwrights Award for the New York premiere of his play, 'Blues for Miss Buttercup' based on the life of blues piano ledgend Leroy Carr.
As Musician/Recording Artist
Dr. McCullough is renowned as a virtuoso 'tinwhistle' and flute performer and pioneer of Celtic World Beat. He has been documented on 49 recordings with Irish, French, Cajun, Latin, blues, jazz, country, bluegrass and rock ensembles for Angel/EMI, Sony Classical, RCA, Warner Brothers, Kicking Mule, Rounder, Bluezette and others — including the soundtracks of the Ken Burns PBS television series The West, Lewis and Clark and Not For Ourselves Alone: The Story of Elizabeth Cady Stanton and Susan B. Anthony and the Neil Jordan film Michael Collins.
As a Composer/Arranger
Dr. McCullough's eclectic audio stylings have graced PBS specials (John Kane, A Place Just Right, Together Alone), film/video scores (Puppet Strings, Consider This), incidental theatre music (Waiting for Godot, Story Theatre, Shadow of a Gunman, Painting the Universe, The Greeks, Tarry Flynn) and the Myths for a New Millennium Celtic Ballet Trilogy co-composed with T.H. Gillespie for Dance Kaleidoscope.
L.E. McCullough is a scholar and journalist who holds a Ph.D. in ethnomusicology from the University of Pittsburgh and has authored eight music business instruction books and videos, and has written over 1,200 newspaper and magazine articles on music, theatre, arts and lifestyle topics for a diverse array of publications including Billboard, Vista, Living Blues, Singout, Texas Highways, La Prensa and New Groves Dictionary of Music in the U.S.
'YOUR BASIC AMERICAN MONDAY'
An Original Play by L.E. McCullough
Presented by 3Graces Theater Co.


Bank Street Theatre
155 Bank Street,
(btw. Washington & West Side Hwy)
New York City
***
Opening Night September 29, 2007 at 7 p.m.
***
Eight Women in an American Diner
33 interwoven monologues
True Tales - Endless Possibilities
that offer an enlightening, unnerving
slice of contemporary America related by a
Waitress, Hustler, Business Woman, Working Woman,
Vagrant, College Girl, Teenager and Soccer Mom.
***
Directed by Kathleen Bishop
Starring
Dacyl Acevedo* ~ Margot Avery* ~ Kally Duling
Anita Hollander* ~ Kate Kearney-Patch* ~ Krystal Marshall
Joan Preston* ~ Deborah Jean Templin*
* member Actors Equity Association
***
September 29 - October 16, 2007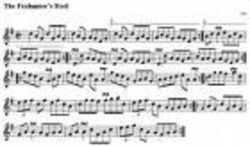 An accomplished musician and composer, Dr. McCullough has recorded on 34 albums and performed on numerous film and television soundtracks including Ken Burns' The West, Lewis and Clark, the Warner Brothers film Michael Collins and PBS specials Alone Together, John Kane and Not for Ourselves Alone: The Story of Elizabeth Cady Stanton and Susan B. Anthony.
Dr. L.E. McCullough is the author of several books of original children's plays and short stories including Plays of America from American Folklore, Plays of the Wild West, Plays of the Songs of Christmas, Plays from Mythology, Plays from Fairy Tales, Plays of People at Work, Plays of Exploration and Discovery and Anyone Can Produce Plays with Kids.
Smith & Kraus author L.E. McCullough has raised the art of Playwriting for Children to a new level of craft and popularity. How? By writing plays that kids -- and teachers -- want to perform. Drawing from two decades' experience as a musician, folklorist, poet, journalist and educator, Dr. McCullough writes plays that are well-grounded in fact and enlivened by snippets of humor, music, dance and excursions into international legend and lore.
Email: feadaniste@aol.com