ANDY ROTHSTEIN
Guitarist~Songwriter~Composer
Andy Rothstein
Guitarist ~ Songwriter ~ Composer
Recently featured in 20th Century Guitar Magazine,
noted guitarist Andy Rothstein leads an original band
which has best been described as "pure instrumental magic."
(Keith "Muzikman" Hannaleck - Muzikreviews.com)
Andy released his independent CD of original
progressive jazz/rock fusion; 'Voodoo Tone' in 2006,
that features bassist Tony Senatore, drummer Lou Petto,
trumpeter Steve Jankowski, saxaphonist Tom Timko,
as well as a guest appearance by guitarist Vinnie Zummo.
Among the circle of musicians he has worked with,
Andy has often been described as, " a versatile and tasteful player
who has developed his own sound on the guitar."
Some of his recording and performing credits include
Mary's Magnet, Tony Senatore, country recording artist "Link,"
The Prayer, and One More Once
in the early days, among numerous others.
In addition, Andy has transcribed many guitar folios
under the pen name Andy Robyns.
Musical transcription credits for Hal Leonard Publishing
include Pearl Jam (10), Alice in Chains (Dirt), Nirvana (Incesticide)
and KISS (Greatest Hits) to name just a few.
******************************
Andy graduated from Rutgers University where he majored
in both Music and Computer Science.
While at Rutgers Andy had the privilege of studying
under the tutelage of both Kevin Eubanks and
the late great Ted Dunbar.
In addition, he studied privately with both
Steve Khan and Vinnie Zummo.

When Clicking to go to another Website-
Click on Back <--- Button to return to this Site.

~~~~~~~~~~~~~~~~~~~~~~~~~~~~~~~~~~~~~~~~~~
~~~~~~~~~~~~~~~~~~~~~~~~~~~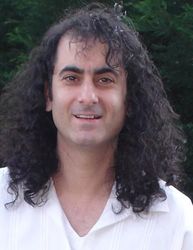 ANDY ROTHSTEIN & VooDoo Tone ~~~~~~~~~~~~~~~~~~~~~~~~~~~~~~~~~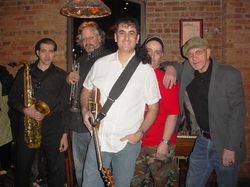 ABOVE
(From Left to Right)
Chris Bacas - saxophone
Steve Jankowski - trumpet
Andy Rothstein - guitar
Tony Senatore - bass
Luther Rix - drums

~~~~~~~~~~
~~~~~~~~~~~~

Voo Doo Tone
Andy Rothstein-electric and acoustic guitars

Tony Senatore-bass

Lou Petto-drums

Link-vocals

Vinnie Zummo-all rhythm section
instruments & guitar solo on
Retro Fuso

Tom Timko-alto, tenor & baritone saxophone
on Brain Power and Mojito

Steve Jankowski-trumpet on
Brain Power and Mojito

Bob Nelson-keyboards on
Giant Steps

Frank Fagnano-organ & drum fills on
Giant Steps

Tom Giola-drum programming on
Giant Steps

~~~~~~~~~~~~~
~~~~~~~~~

~~~~~~~~~~~~~~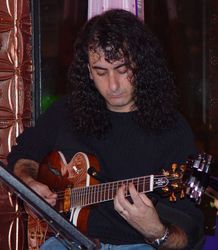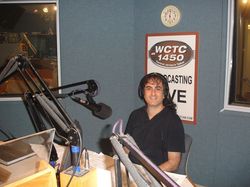 ~~~~~~~~~~~~~~~~
Andy Rothstein at the WCTC Studio
for Festival of the Arts broadcast
Sunday June 29, 2008
~~~~~~~~~~~~~~~~~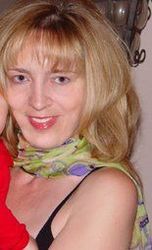 Click on Photo above or Logo below
for Alissa Rothstein Design Studio

Click on image below for more information & CDBaby ~~~~~~~~~~~~~~~~~~~~~~~~~~~~~~~~~~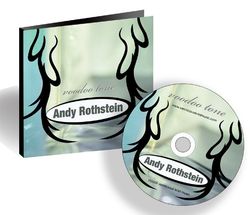 Jazz-Rock-Fusion
~~~~~~~~~~~~
VooDoo TONE

1. Brain Power
2. If Not Now, Then When
3. Voodoo Tone
4. #1
5. Retro Fuso
6. Absinthe
7. Mojito
8. Giant Steps
~~~~~~~~~~~~~~~
Click on Icon below for www.myspace.com/andyrothstein ___________________________________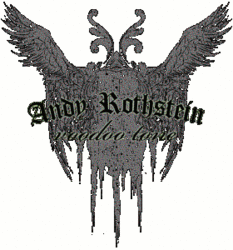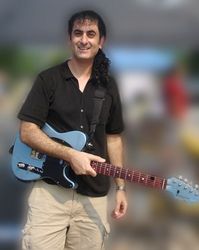 For Further information on Rothstein Guitars ( Click on photos above and photo below)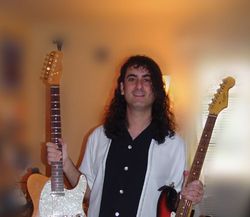 ~~~~~~~~~~~~~~
Guitarist - Songwriter - Composer
Andy Rothstein
With two of his guitars
~~~~~~~~~~~~~~~~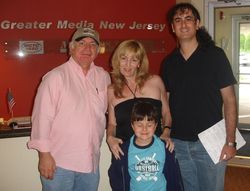 ~~~~~~~~~~~~~~~~~~~~~~~
~~~~~~~~~~~~~~~
International Artist - Co-Host, Kenneth Hari
Alissa and Andy Rothstein
and Jr. Announcer, Jake Rothstein
at the WCTC Studio June 29, 2008
~~~~~~~~~~~~~~~~
~~~~~~~~~~~~~~~~~~~~~~~~~~