ROY M. STEINBERG & Gallery
ROY M. STEINBERG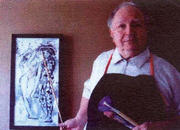 ABSTRACT EXPRESSIONISM ~ REALISM
ROY STEINBERG
Artist ~ Educator ~ Talk Show Host
Roy M. Steinberg received his BA degree in Fine Arts from the University of Florida in Gainsville. For six years,he continued his studies at the Art Student's League in New York City and
is a Life Member of the League.
Best known for his abstract expressionism and representational artistic form, Roy has made major contributions through his work, instruction, lectures and workshops to the contemporary art movement in America.
His exhibits have been well received over the years in New Jersey and New York City, which include the Wrans Gallery and Celedon Gallery in SoHo. His paintings are hosted in the Mellon Collection, The Atlantic County Museum, C.P.I. Corporation, and Beaux Arts Gallery in Fort Lauderdale, Fla.
Roy founded the sketch class at Barron Arts Center in Woodbridge,N.J. where he established and taught figure drawing classes. He has been a member of the Westfield Art Association where he has held workshops, lectured and demonstrated technique and form. He is a member of several Art Associations including Clark and Fanwood in New Jersey and has conducted workshops in Livingston.
In 1999-2000 Roy co-hosted FESTIVAL OF THE ARTS on WPBR,which aired from West Palm Beach, Fla. with writer Linda Toborowsky. The show included interviews with guests throughout the United States.
Roy is a member and an instructor at the Edison Arts Society. He and his wife, Gail reside in New Jersey.
---
Roy's Gallery
ABSTRACT EXPRESSIONISM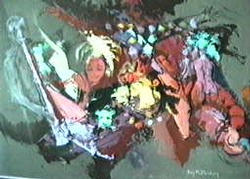 CIRCUS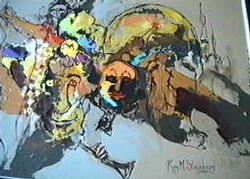 GOLD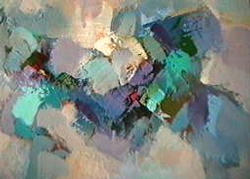 STUDY in BLUE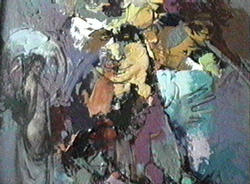 JUBILATION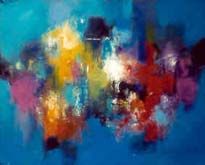 HARMONY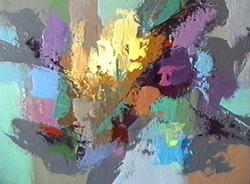 HARMONY 1