JULIA SADD Journalist - Lyricist - Author
Writer, journalist, lyricist, JULIA SADD's career
is as colorful and eclectic as her creative spirit.
Her journalistic background and talents span years
of reporting, public relations and cultural affairs to include,
national TV, Charleston Gazette, 8 years speech writing for the
Governor of West Virginia, State newsletters, and public relations.

She authored children's stories, written lyrics, and several plays.
One of Julia's profound and prophetic creations is a book about
the courageous and spirited CALEEA, the Christmas Camel,
who follows her intuitions to lead the way for others.
Julia was a representative for National Education Television
(now PBS) in New York City; a staff writer for UPI-WV
and was correspondent for VARIETY Magazine.
Her non-fiction articles have been published by
GRIT, VENTURE INWARD, CATS and KITTENS Magazine,
and the BROOKLYN DAILY EAGLE.
Co-Author, KAY ADAMS, who passed away in 2004,
was a musician, composer and lyricist known
for her jazz performances at the prestigious clubs at
the Greenbrier Hotel in White Sulphur Springs, W. Va.
and also in the Charleston area with various bands.
Aside from her original music compositions and lyrics,
her musical career and teaching keyboard,
Kay co-authored children's stories
which were published nationally.
The Authors' Message: 'FOLLOW YOUR HEART'
Together, Julia and Kay followed their hearts to co-author
CALEEA, The Christmas Camel, which was published
by the Weekly Reader and Down Home Magazine.
CALEEA, has serveral profound messages such as,
'Follow your heart'
'You can rise above hurtful situations'
'Help can come in some miraculous ways'
And this story has received several awards including one
as the radio adaptation for an original work in AUDIO IMAGES
competition by the Ashland Oil Company and WVPRN.
Julia and Kay also co-authored, 'Della's Palace,' an original play
with music and songs performed by adult students
of the late actress (Family Matters) Rosetta Lenoire,
founder of the AMAS REPERTORY THEATRE in New York City.
Julia has continued to write and author original plays
and musicals (lyrics). She is very active in the community.
~~~~~~~~~~~~~
~~~~~~~~~~~~~~~~~~~~~~~~~~~~~~~~~~
Click on Julia's photo above for Website: www.JuliaSadd.com
Click on Book (below) for latest review on CELEEA- The Christmas Camel.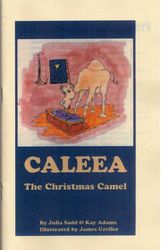 'Follow Your Heart'
Musician, composer, lyricist,
jazz pianist & published author.
~~~~~~~~~~~
~~~~~~~~~~~~~~~~~~~
~~~~~~~~~~
CALEEA ~The Christmas Camel
This is a very unique Christmas tale.
Caleela is a camel born near the city
of Nazareth in Palestine.
Through circumstances, she becomes
one of several camels transporting
the three wise men traveling
to the manger which houses Jesus.
Despite their immense knowledge,
the three lose their bearings.
Meanwhile, Caleela receives divine
guidance and the courage to convince
them to follow her direction to
find their designated location.
Caleela, miraculously is able to fly,
and opens a new era for all camels.
She becomes a legendary icon.
In subsequent years,
flying camels can load up packs
for delivering the sweets at Christmas.
But one year a camel encounters
a young and downtrodden one
who cannot fly and has been beaten
and mishandled by her master.
After a great deal of convincing,
from the older camel
the little camel finally realizes
that she CAN fly and she takes off.
When she arrives home she displays
courage and a new attitude.
She can see and feel her family's
pride and their respect for her.
~~~~~~~~~
~~~~~~~~~~~~~~~~~~~~~~~~
~~~~~~~~~~~~~~~
~~~~~~~~~~~~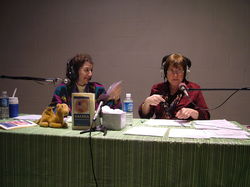 ~~~~~~~~~~~~~~~~~~~~~~~~
~~~~~~~~~~~~~~~
~~~~~~~~~~~

JULIA SADD and CALEEA
with
LINDA TOBOROWSKY
on 1450 WCTC AM
November 18, 2007