BOBBY GONZALEZ Speaker-Storyteller-Poet
Bobby González is a nationally known multicultural motivational Speaker, Storyteller and Poet.
Born and raised in the South Bronx, New York City, he grew up in a bicultural environment and draws on his Native American (Taino) and Latino (Puerto Rican) roots to offer a unique repertoire of discourses, readings and performances that celebrates his indigenous heritage.
As a storyteller he has performed at Carnegie Hall, the Museum of Television & Radio and the Detroit Institute of Arts.

Bobby has lectured at many institutions including Yale University, the University of Alaska-Fairbanks and the University of Alabama-Huntsville. He has given poetry readings at the National Museum of the American Indian, the University of North Dakota and the Nuyorican Poets Café. (See extensive list below.) Website for further information: www.BOBBYGONZALEZ.com

Bobby is on the Board of the Storytelling Center, Inc. of New York which was founded in 1982, and offers workshops, swaps and special events. The Center has been at the heart of New York's storytelling community and has contributed to the renaissance and growth of storytelling in both the New York region and the United States. For more information on the Center go to: www.storytelling-nyc.org
Reading from his latest book:
'The Last Puerto Rican Indian:
A Collection of Dangerous Poetry'
is available from CemiPress.
~~~~~~~~~~~~~~~~~~~~~~~~~~~~~~~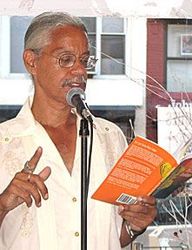 ~~~~~~~~~~~~~~~~~~~~~~~~~~~~
The title of his latest poetry book is "The Last Puerto Rican Indian: A Collection of Dangerous Poetry." These verses reflect upon five centuries of dramatic upheavals and heroic triumphs of Native Peoples from North, Central and South America and the Caribbean. Bobby González seeks to empower his audiences by encouraging them to embrace their heritage and use this knowledge to create a dynamic future. As an individual proud of his Native American, Latino and African ancestry, Bobby is a messenger of hope, pride and love of diversity.
~~~~~~~~~~~~~~~~~~~~~~~~~~~~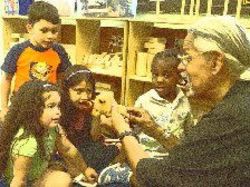 Click on photo above for book information - Photo credit: Marina Ortiz
~~~~~~~~~~~~~~
Performed at
Carnegie Hall
The University of Michigan
The American Museum of Natural History
The Browning School
United Nations

Repertoire includes
"The Skunk Who Fell In Love With The Moon And Other Native American Folk Tales"

"Matu the Manatee & Other Native American Stories From Latin America"

"Traditional Native American Myths From North And South America"
Click on photo above for Middlesx County Cultural & Heritage Commission site.
~~~~~~~~~~~~~~~~~~~
Native folk tales from North, South and Central America as well as the Carribean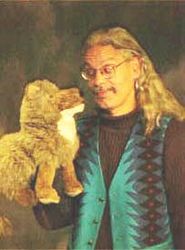 _____________________________________
_______________________________

CUBAN-AMERICAN STORYTELLER
CARMEN AGRA DEEDY IN NYC!
Sunday April 6, 2008 3:00-4:00 PM

A TASTE OF CUBA:
Stories from the Island and Beyond

at the Provincetown Playhouse, Greenwich Village

Born in Havana and raised in Georgia,
Carmen Agra Deedy
creates a sofrito of traditional Cuban Folktales and stories
from her life and seasons it with insights
she's gathered along the way.
Deedy blends the ingredients of her life
with a tea spoon of loss,
heaping cups of sweetness
and a slice of wicked Cuban humor to top it off.
A delicious afternoon of storytelling….
¡Ven y Disfrutalo! -
Come and Enjoy the show!

Carmen Agra Deedy is an award-winning
storyteller, recording artist and author
of numerous best-selling books for children.
Born in Havana, Cuba,
she immigrated with her family to
Decatur, Georgia
during the Cuban Revolution.
Her stories convey a strong sense
of her dual heritage.
www.CarmenDeedy.com

Sunday, April 6, 2008
Carmen Agra Deedy
A TASTE OF CUBA:
Stories from the Island and Beyond
at:
The Provincetown Playhouse
133 MacDougal Street
(just south of Washington Square Park)
Admission:
adults-$5.00 and children-free
Time 3:00-4:00 PM
For adults and children 6 years and older

Sponsored by
NYU Steinhardt School of Education,
Program in Ed. Theatre
Regina Ress, Producer
For more information, please call
(212) 260-3674
________________________
Nearest subways:
West 4th Street station: A, B, C, D, E, F, V;
Sheridan Square: #1; 8th Street: N, R, W;
Bleecker Street, #6
_____________________________
www.co.middlesex.nj.us/culturalheritage/index.asp
___________________________________________
___________________________________
_______________________________
From The Storytelling Center

Story Swap

Thursday, April 3, 2008
6:30 to 9:00 pm
at the 92nd Street Y,
Buttenwieser Library, 2nd Floor
1395 Lexington Avenue, NYC

Have a tale to tell?
Come to the Story Swap!
Whether you're a storyteller or a story listener,
you'll have a great time mixing and mingling
with others in the New York City
storytelling community.
It doesn't matter
if you have been telling for years
or are just beginning.
Bring your 10-minute story --
traditional tale, personal narrative, fable,
myth or parable --
and share it in a relaxed environment
with other story aficionados.

Register and sign-in to tell at 6:30.
Enjoy light refreshments
Meet hosts Robin Bady,
Director of the Storytelling Center of New York City
And Peninnah Schram,
Award-winning Storyteller and Author.
Stories start at 7:00…
We'll see you there!

Admission is free. Donations are accepted.